---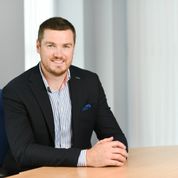 Leading automotive factor group FG7, has confirmed their Chief Operations Officer, Kevin O'Kane, will be promoted to the role of Managing Director effective immediately. In his new role, O'Kane will also assume a position on the board of directors sitting alongside the groups five founding members.
"This is a true and fair reflection of the substantial contribution Kevin has made to the FG7 group since joining the company two years ago," said Colin Adams, Chairman, FG7 Board of Directors.
"During this period, his dedication and leadership have helped the group achieve substantial commercial growth while his vision and expertise have further enhanced the brand.
"An excellent example of this was seen in October 2019 when Kevin delivered the successful MecTec Expo, an event which showcased over fifty of our supplier partners to an audience of over five thousand. The feedback from this event alone proved to us that Kevin was the man for this job, and on behalf of myself and my fellow directors, I would like to congratulate Kevin and welcome him to the board."
38-year-old father of three, Kevin O'Kane added, "It is an honour and a privilege to lead the FG7 family as we enter our 20th year. During the past two years, I have witnessed first-hand the hard work and dedication this top-class team delivers, and I am excited to guide them as we accelerate our way into the company's third decade. 2020 has presented some truly remarkable challenges as the global pandemic has impacted all industries, ours included. While there are still difficult days ahead, there are also massive opportunities for those willing to embrace the new normal.
"Rest assured the team and I, are primed and ready to make the most of these opportunities and further cement our leading position within the Irish Automotive landscape."
---
Trending Now